Guitar Lessons - Keller, TX
We can't wait to you to welcome you to guitar lessons at our beautiful Keller, TX studio! Our guitar students learn from top-notch instructors in the style that THEY love best! Whether you want to learn the greatest rock n roll riffs on your electric guitar, or to be able to strum tunes by the campfire on your acoustic guitar or ukulele, your goals will become reality! 
 Guitar Lessons in Keller -
Lesson Approach
Students will learn the fundamentals of their instrument  by using their preferred style of music and favorite songs! Teachers will customize the lesson plans around the individual student to make sure they are learning in a way that is best for them. 
For smaller fingers, ukulele lessons are a great place to start! Students will build the dexterity needed to play guitar or other stringed instruments. Ukulele lessons are available at our Keller and Colleyville locations. 
Guitar, bass, or ukulele students who are ready to use their new skills in a band environment are invited to join one of our band classes in Keller or Colleyville! (Don't worry, they don't JUST play rock music - the students get to help choose what songs they want to learn!) 
All it takes to enroll in guitar lessons in Keller is to call or email us today! Our dedicated and friendly office staff will help you choose the best class and instructor for you! We are so confident that you will love it, the first lesson is on us! 
to schedule your free trial guitar or ukulele lesson with one of our professional and friendly staff in Keller!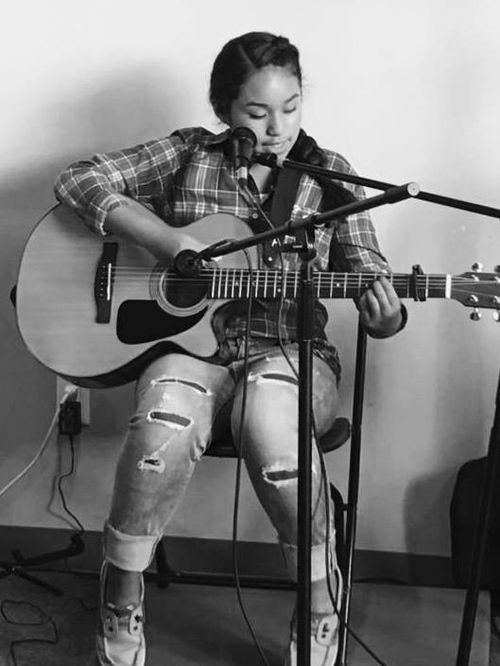 Why choose Stage Notes?
Stage Notes has a proven track record in north Texas going back to 2008. Since then, we have taught thousands of students of all ages to love music and art.   
Hate high pressure sales? Yeah, we do too. That's not what we do at Stage Notes. We are here to offer a comfortable, supportive environment for you or your child to learn the instrument or art medium of YOUR choice.   
Our staff of qualified instructors are hand chosen based not only on their musical skills and training (which are impressive), but on their personality and how well they will be able to communicate with and teach students - which is really the point!  
Looking for performance opportunities? We LOVE to perform! So much so, the word STAGE is literally in our name! We offer recital opportunities 4 times per year - more than other studios or private instructors! We believe that students learn the most when they have a goal, like a performance, to work towards. So we do it often!  
Art students, we didn't forget about you! While our music students enjoy frequent performance opportunities, we offer semi-annual Student Art Shows for all art students! You also deserve to show off your hard work and skills to your adoring fans! 
We care about quality. Sure, it's fun to memorize a great guitar lick, but we want to be sure our students are actually learning, not just memorizing. For this reason, music students are offered quarterly theory exams to be sure they are progressing and learning as they should.  
Want to perform even MORE? Join one of our Band Classes! These talented kiddos perform regularly at local events like Southlake Oktoberfest, NRH Hoot N Howl, and much more!    
We care about your child's safety. For this reason, all of our lesson rooms have observation windows as well as security cameras.  
We have a comfortable waiting area for parents and siblings - with wifi and kids activities - but parents are always welcome in the lesson room. 
It's easy to get started!
Simply CONTACT US to schedule your FREE TRIAL LESSON!
We'll work with you to find the time, class, and instructor that will be best for your student.